Jose Mourinho has spoken of the 'special honour' to manage Manchester United after being confirmed as their new manager on a four-year contract with the option to cut ties after three years.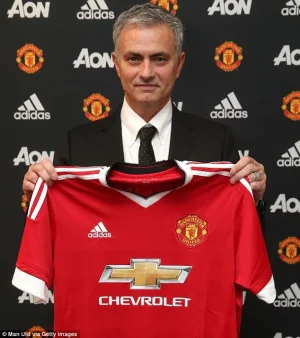 United executive vice-chairman Ed Woodward hailed the former Chelsea boss as 'the best manager in the game today' after the club broke the news on football's worst-kept secret on Friday morning.
Mourinho will earn £15million per year and work has already started on a summer recruitment drive with £200m available to create a squad capable of a Premier League title challenge.
'To become Manchester United manager is a special honour in the game,' Mourinho said. 'It is a club known and admired throughout the world. There is a mystique and a romance about it which no other club can match.
'I have always felt an affinity with Old Trafford; it has hosted some important memories for me in my career and I have always enjoyed a rapport with the United fans. I'm looking forward to being their manager and enjoying their magnificent support in the coming years.'
FA Cup winners United sacked Louis van Gaal following their Wembley win against Crystal Palace and immediately set about finalising Mourinho's arrival.