The Minister of Transportation, Rotimi Amaechi has disclosed that many existing rail structures will be demolished in order to link rail lines with seaports across the country.
Amaechi said this in Abuja yesterday, while receiving a team from the World Bank, led by the Senior Transport Engineer, Africa Region Transport Unit, Tesfamichael Nahusenay Mitiku.
The minister said the measure was aimed at revamping the rail transport sector, adding that the rail lines currently being constructed would be linked to the ports like in other countries.
Amaechi was quoted to have stated in a statement that the major problem envisaged for the project was that a lot of demolition of existing structures along the rail lines would take place, adding that this would attract huge compensation on the part of government.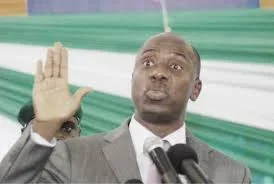 He, however, noted that when completed, the whole country would have been linked by rail, as this would address the challenges associated with the movement of goods and services in Nigeria.
The minister noted that the ministry would partner the World Bank on the development of a comprehensive land transport policy for the country.
According to him, the policy will promote and galvanise land transport in Nigeria.