Members of Chibok community have decried what they described as the inhuman treatment meted upon their daughter, Amina Nkeki, who was abducted in 2014 and found on Tuesday.
Addressing journalists on Thursday, representatives of the community condemned the description of a Boko Haram suspect, Mohammed Hayatu, caught alongside Amina, as her husband.
The chairman of Chibok Community in Abuja, Tsambido Hosea, said Hayatu should rather have been reported as their daughter's exploiter.
"We condemn, in strong terms, the calling of Mohammad Hayyatu as Boko Haram husband of our daughter," he said.
"Upon confirmation by the Nigerian Military, he should be referred to as a: "Boko Haram sexual exploiter.
"Amina had no husband and who ever that was rescued with her should not be referred to as her husband for any reason," Mr. Hosea stated.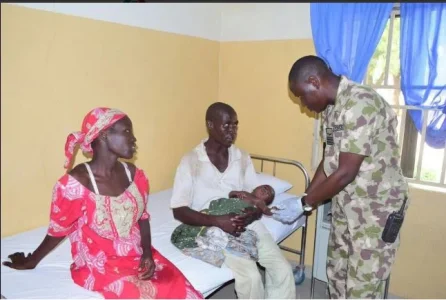 "Even if he is also abducted and forced to marry her, he should not be referred to in any way as her husband, because there was never consent in getting her with a baby," Mr. Hosea said.
Mr. Hosea who was speaking at a meeting organised by the Bring Back Our Girls Group, called for the immediate investigation of Hayatu's role with Boko Haram, and his relationship with Amina.
Speaking on behalf of the BBOG, Aisha Yesufu, said the manner Amina was photographed with a plate of "tattered looking rice, and side by side with Hayyatu" was inconsiderate.