The Movement for the Actualisation of the Sovereign State of Biafra (MASSOB) has dissociated itself from the Biafran anniversary celebrations that led to a bloody clash between soldiers and pro-Biafran activists.
"We're not involved in the protest that paralysed commercial activities in the area," MASSOB leader, Mr. Uchenna Madu, said in a telephone interview with PUNCH.
He had earlier said in a statement that this year's Biafra Day would be celebrated quietly and urged all MASSOB members to stay at home.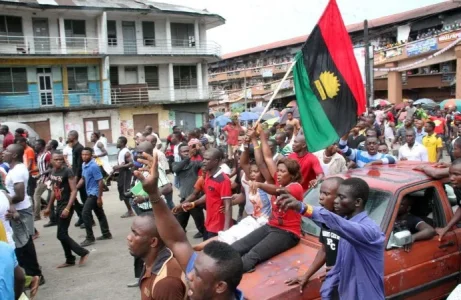 Madu, however, accused security operatives of killing innocent and unarmed Nigerians.
He said, "Security operatives of the Federal Government are arresting and killing people who are non-violent. Is it because we are not armed? It appears the only language the Nigerian security understands is violence.
"This issue is not about MASSOB or IPOD. It is about Ndigbo generally. In the ongoing killings, innocent people were also targets. The government is negotiating with Niger Delta militants and faceless Boko Haram, but is threatening to wipe out pro-Biafra agitators because they are Igbo."
Related: Biafra: MASSOB, Police in Deadly Clash in Asaba
Source: PUNCH