Nigerian Senate on Tuesday expressed its backing for the embattled controversial Kogi West lawmaker, Dino Melaye, over the ongoing move by his constituents to recall him from the National Assembly.
The lawmakers stated that they will determine whether Melaye could be ejceted by his constituents or not, describing the ongoing process as a waste of time and public funds.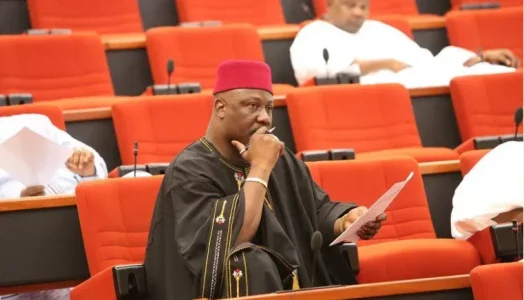 Melaye, at the plenary on Tuesday, raised a point of order to accuse the Governor of Kogi State, Mr. Yahaya Bello, of sponsoring his recall.
But, as the drama continues, there are some senators who would want Melaye out of the senate because of what may have transpired between them. They include:
Remi Tinubu:
The imbroglio between Lagos Senator, Oluremi Tinubu and Dino Melaye cannot be forgotten in a hurry. Melaye had threatened and made defamatory remarks to Senator Remi Tinubu. Melaye had said he would beat her up and 'impregnate' her on [the floor of the Senate] "and nothing will happen.".
Ali Ndume:
Both Senator Dino Melaye and Ali Ndume are not in good terms. Ali Ndume of Borno South was in January 2017 removed as the Senate Leader by APC caucus and replaced with Ahmed Lawan of Yobe North. Thirty-nine out of the 63 All Peoples Congress (APC) senators signed the letter which demanded for the replacement of Ali Ndume. Dino Melaye was among the Senators that endorsed the 'Notice of Vote of No Confidence/Change of Leadership' letter to the Senate. Melaye's certificate scandal issue was also one of the reasons Ali Ndume was handed a 6-month suspension. Ndume had called on the upper chamber of the National Assembly to investigate the certificate scandal involving Senator Dino Melaye.
Godswill Akpabio:
May 2016, there was tension between Minority Leader, Senator Godswill Akpabio and Senator Dino Melaye on the floor of the Senate. During deliberations on a motion on Senate Intervention on the Reforms and Strengthening of Local Government Administration in Nigeria, moved by Sen Abdullahi Gumel from Jigawa state and co-sponsored by six other Senators.
While several other senators had taken their turns to contribute, sometimes blaming governors for failing to strengthen local governments, it was time for Melaye to speak.
Melaye said local governments were being starved of funds, unable to pay salaries as and when due "because of the satanic manifestation of governors".
The statement angered Senator Akpabio, who was a former governor. Raising a point of order, he said Melaye's statement was unfair to past governors who performed well for their states. He insisted that Dino be made to withdraw the statement as abusive words were not allowed according to the House rules. Coming under Order 43, Akpabio said Dino has never been a governor and so doesn't know what it entails to be one.
PDP Senators:
No doubt, many PDP Senators are not in agreement with Melaye, an APC Senator. Malaye has countered their moves on many occasions.