Former spokesperson to ex-President Goodluck Jonathan, Reno Omokri, has commended Bishop David Oyedepo of the Living Faith Church for speaking against the killings in Southern Kaduna.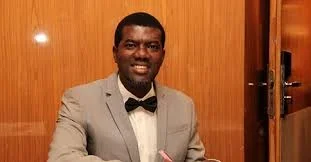 Omokri in a Facebook live video on January 13, said: "May God bless Bishop David Oyedepo. Other men of God have been unwilling to talk and say the truth, they just kept quiet. They've been comfortable in their corners; they've buried their heads in the sand. Thank God for Bishop David Oyedepo.
''Let me warn that nothing must happen to Bishop David Oyedepo as a result of this truth he has said on this video. Because in Nigeria, we are being pushed to the wall. Look at what has happened in southern Kaduna; nobody even knows the extent of the damage of the killings and destruction in southern Kaduna.
"Human lives have ceased to have any value. I went and did some research and I was just reading how the military were sent after people who stole cattle but then human beings are dying, where are they (Military)?
"And then when the president of the Christians Association, Rev. Ayokunle Samuel speaks out, when other people who have the fear of God in them speak out, what does the Kaduna state council of Imams say? Calling on President Muhammadu Buhari to go and arrest the President of CAN because he has shown sympathy. These are people that have not even spoken publicly to condemn the carnage, the death, the destruction that is going on in Southern Kaduna.
"What do they want to happen to that country? President Muhammadu Buhari, is this how to build unity? Don't forget, not all of us can just forget history. A man who does not know what happened before he was born will forever remain a child.
"President Muhammadu Buhari in October 2000 to be precise, you went to Agodi in Ibadan, to the governor's, then Lam Adeshina was the governor, this happened on the 13 of October, 2000, you went and you laid a very bitter complaint, you went with Marwa, he was on your party, and a couple of other people, and you complain to the governor, you said that Fulanis were being killed in Shaki, Oyo state and you were very sad, very angry, you were bitter why, because Fulanis were killed. You spoke sternly to Governor Lam Adeshina.
"Now, I'm asking you today, President Muhammed Buhari, where is that same anger you displaced in 2000 when people are being killed in Southern Kaduna?"
"Thank God for people like Bishop David Oyedepo that can speak up and say the truth to power. The bible say you shall know the truth and the truth will set you free. Nobody is speaking the truth.
"I want to say a big thank you to Sultan of Sokoto, Alhaji Sa'adu Abubakar, this is a man who has spoken out for the people of Southern Kaduna. He has condemned the killings. Why can't our President and the governor of Kaduna, Nasir El- Rufai, follow suit.
"Go and google a video I did about two weeks ago, I warned when the governor of Kaduna state said he has paid money to some foreign Fulanis as compensation so that they would not kill again. I said this thing is going to give rise to more killings, and look at what has happened?
"Thank God for Bishop David Oyedepo, and we want to warn, we want to warn that nothing must happened to Bishop David Oyedepo. We don't want to hear that he has been arrested or that the license of his university has been revoked or that his C of O has been revoked, nothing must happened to him.
"I call on other men of God, your callings is not to go to your church to begin to talk about tithe and offerings, and financial breakthrough. People are being killed; lives are being lost, if you do not speak up now, then forever be silent.
"You have not been called a man of God to go about be talking about financial breakthrough, be buying hummer, be buying limousine, dressed very well and all that. Look, our lord and savior was a man who cared for his flock and when he was going the very last thing he said to Peter, he said Peter, feed my flock.
"Bishop David Oyedepo is a great man of God who is feeding the flock of our lord Jesus Christ and shame on all other men of God who have kept quiet in a time like this. Shame on them! I call on all in the body of Christ; keep on praying for Bishop David Oyedepo, so that God will continue to protect him. God bless you.
See video below: