Dr Ola Orekunrin, Founder of Flying Doctors Nigeria has expressed displeasure at Reuben Abati's recent article on the Big Brother Naija reality show.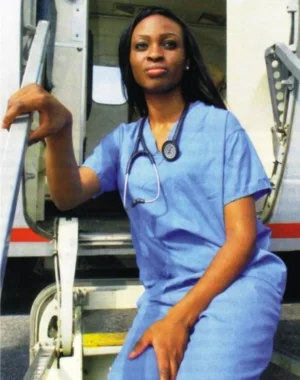 In response to Abati's article, Dr Orekunrin wrote a short piece on how Nigerian men love to demean women who seem better off than them.
Read her article below:
Yesterday I was in traffic in Ikoyi, a young man knocked at my window and asked for money. 'I no get change' I said shaking my head.
The man started gesticulating angrily, 'you this ashawo, no be senator buy this big car for you'
To avoid this type of confusion, my number plate is personalized, it say's 'Flying Dr'. Buying my car meant working hard to conceive, build and scale a world class , pan-African business that saves hundreds of lives not, just in Nigeria, but across the continent. But he, like many Nigerian men, would rather call me an ashawo. It makes him feel more secure about the many Nigerian women that he see's across the country outperforming, outhustling and out-learning him every single day.
Historically, I have liked Rebeun Abati's writing. But the condescending, disgusting , derogatory piece he wrote yesterday made my skin crawl.
I never watched big brother. In fact, I haven't owned a television in over ten years, I much prefer to listen to or read books. I read business books, that's what I enjoy. When I pick up a business book, I expect to find business principles in the book. When you watch big brother Nigeria, you should expect raunchy entertainment, that's what the show is about. No one read's Linda Ikeji's blog for scientific research.
I will quote one of the most distasteful parts of Rebeun Abati's (who was a former special advisor to the president of Nigeria) here:
'I have seen better breasts Tboss. I am not too sure those private jet owners will be excited by your fluffy, South-looking, slightly bigger than mangoes breasts. If the same men see bigger assets, I mean, those interesting Ojiakor-like ones that look like papayas, pineapples and watermelons, they will not send private jets, they will deploy submarines and fighter jets!'
FYI Reuben; When men are ill, its MY jet they take to hospital.
He not only body-shames and slut-shamed her in this article. But suggests that only possible line of work for an ex-Big brother contestant is a life of prostitution.
Only girls and women are called to task for their sexuality, whether real or imagined; boys and men are congratulated for the exact same behavior. This is slut-shaming and it is sexist.
People (usually men, but sometimes women) often criticize women's appearance for being too sexual (according to their standards of acceptable sexuality), in order to control women. They also often blame women for being victims/survivors of rape, by using similar appearance-based criticisms. Both of these uses of shame in order to dominate and control women. They also promote a culture of rape and domestic violence.
Reuben Abati, just like that guy on the street yesterday, wrote a derogatory article to try and make a woman feel ashamed of seeking success, to try and knock her confidence, to try and belittle her hard work. No woman should be made to feel like that.
READ:
Reuben Abati Writes On Big Brother Naija, TBoss' Breast