Centre for Human Rights and Social Justice (CHRSJ), a human rights group in Nigeria, has called on the newly appointed Minister of Defence, Monsur Dan-Ali and the authority of the Nigeria Army to bring out the controversial Senior Secondary School Certificate (SSCE) of the President and Commander-in-Chief of Armed Forces, General Muhammadu Buhari (rtd).
General Buhari had before the election insisted that his controversial original Certificate was with the authority of the Nigeria Army.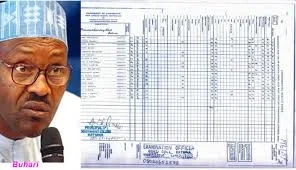 The rights group in the seven (7) days ultimatum said that failure of President Buhari to order the authority of Nigerian Army as their Commander-in-Chief, to release his original Senior School Certificate, which he used to be enlisted in the Army, would amount to "blatant lie of the highest order from the acclaimed incorruptible President Buhari."
In a statement issued and signed by the CHRSJ's Executive Chairman, Comrade Adeniyi Alimi Sulaiman, he said, "Following the recent statement credited to the new Defence Minister, Monsur Dan-Ali over disappearance of the purported original Secondary School Certificate of General Muhammadu Buhari (rtd) in the custody of Nigeria Army, which General Buhari claimed to be with the Country's Military authority, prior to the 2015 presidential election.
Mohammadu Buhari has become elected President of the Federal Republic of Nigeria now and he is the Commander-in-Chief of Armed Forces, no Military authority will have temerity to keep his Military Service file now and he should not hesitate to order them to bring out his (Buhari) original controversial Secondary School Certificate now within seven (7) days for doubting Thomas to see.
- Dailypost