The controversial president of Zimbabwe, Robert Mugabe was awarded China's alternative to the Nobel Peace Prize on Thursday for what the prize committee called his inspired national leadership and service to pan-Africanism.
The 91-year-old Mugabe is the latest in a series of critics of the West who have received the Confucius Peace Prize.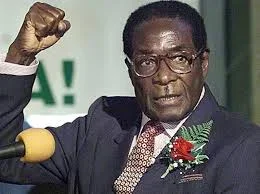 Under his government, he pushed a plan to acquire large parcels of land, many from white owners, to give to black farmers. When owners challenged the move in 2002, Mugabe reportedly called them "greedy, greedy colonials."
After fighting in a guerrilla war in the 1970s, Mugabe was elected president in 1980. He has been in power for 35 years with no clear successor.
The Confucius prize was set up in reaction to the Nobel peace prize committee's decision to award imprisoned dissident Liu Xiaobo in 2010. Past winners of the award include Russian president, Vladimir Putin and Cuban despot Fidel Castro.
Mugabe received only 36 of 76 votes, but was awarded the prize following a meeting of the committee's 13-member review board. Other candidates included Kazakh President Nursultan Nazarbayev, Microsoft founder Bill Gates and South Korean President Park Geun-hye.
The Confucius Peace Prize was first awarded in 2010 amid Beijing's anger and resentment over the granting of the Nobel Peace Prize to imprisoned Chinese dissident Liu Xiaobo.