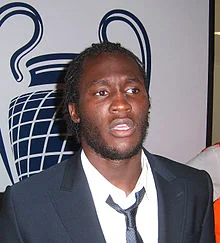 Belgium striker Romelu Lukaku, has hinted at the possibility of exiting Chelsea during the transfer break as the Blues look determined to land Spanish striker, Diego Costa from Atletico Madrid.
Lukaku, who is not enjoying being constantly overlooked by Chelsea, has played for West Brom and was equally on loan at Everton last season,where he scored 16 goals for the Toffees side.
He hinted at a possible move away from the London-based club, "You know Chelsea: every year they buy a new top striker.
"I remember me coming into the dressing room last year and seeing Samuel Eto'o and Demba Ba and going: 'Whoah! What's happening here?'
"But no problem. Many clubs are interested in me.
"At this stage I have to look to myself. I have to play a good World Cup. That's very interesting for all the players looking for a transfer, and I must be one of them. Chelsea know my point of view."
Photo Credit: Wikipedia
Last edited: