44-year-old Englishman, Ben Ryan who led Fiji's Rugby team to Olympic glory in Rio and delivered the island nation's first ever medal has been rewarded with three acres of land.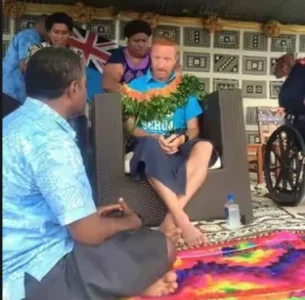 In addition, he has been honoured with a traditional chief's name, Ratu Peni Raiyani Latianara.
Fiji's gold medal, the first in the history of the small island nation, sent shockwaves around the country - catapulting Ryan to the level of national hero.
Ryan has already received the Companion of the Order of Fiji - the highest honorary title that can be awarded under the Order - from Fijian president Jioji Konrote. He received his new land and titles in a special ceremony on Sunday with hundreds of Fiji supporters in attendance.