European golfer Justin Rose has dismissed claims by American golfer Phil Mickelson that the defence of their Ryder's Cup title will be ruffled with the court cases in their camp.
Mickelson aimed a jibe at Team Europe saying that they will go into their Ryder Cup defence tomorrow a divided team because of the ongoing legal battle between Rory Mcllroy and Graeme McDowell.
"Not only are we able to play together, we also don't litigate against each other," Mickelson said when asked about America's lack of unity in previous Ryder Cup tournaments.
But Rose is not fazed by Mickelson's comments about Team Europe,adding that it was just banter.
"Of course it's a bit of banter and getting things going. We don't have a problem with that at all.
"There's no real angst between the players from that point of view at all, and in our team room, it's a non-issue. I've obviously been observing Rory and G-Mac, too, and they have been getting on great and playing golf and hanging out and having dinners together.
"The atmosphere is fantastic in our team room. Of course, yeah, it was mentioned last night. Phil came up to Rory last night and was like, hey, this and that. It's no real big deal."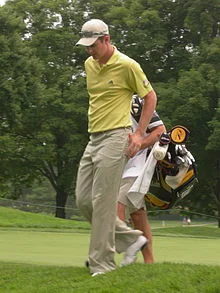 Photo Credit: Wikipedia