SaharaReporters has obtained Senator Dino Melaye's West African Examination Council (WAEC) result sheets which it described as a pointer that the embattled senator was a dismal student who earned only three credits.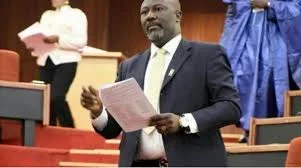 The result sheet for the senator, a member of the All Progressives Congress (APC) who represents Kogi West senatorial district, came from a secondary school attended by Mr. Melaye.
The senator according to SaharaReporters had kept that aspect of his academic history hidden from the public by scrubbing the school from his profile on the website of the Nigerian Senate.
Mr. Melaye sat for the WAEC exams at the Abdulazeez Attah Memorial College, Okeke in Kogi State. His results, exclusively obtained by SaharaReporters, reveal that Senator Melaye, whose name on the result sheets was registered as Daniel Jonah O. Melaiye, only made three credits in Christian Religious Studies (C5), Agricultural Science (A3) and Biology (C6). Melaye took 6 other subjects including English Language (P8), Mathematics (P8), Chemistry (P8), Economics (P7) and Physics (F9).
The dismal performance meant that Mr. Melaye did not have the minimum requisite credits to gain admission into a Nigerian university to study for a bachelor's degree. In fact, the only way he could have been admitted for studies at a Nigerian university was if he earned other credits from another secondary school.
Mr. Melaye did not list his secondary school education on his
www.linkedin.com
profile. Nor did he provide it on his senatorial profile on the website of the Nigerian National Assembly. Instead, he listed Gandun Nasarawa Primary School in Kano as the source of his West African School Certificate. Pupils in primary school are not eligible to sit WAEC exams.
See photos of the result below: