SaharaReporters, an online news platform has obtained a copy of the text message sent out to Nigerian Senators urging them to accompany embattled Senate President Bukola Saraki to his corruption trial at the Code of Conduct Tribunal in Abuja today.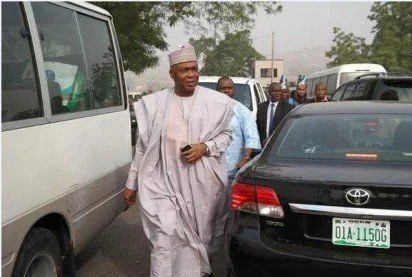 Mr. Saraki and the leadership of the Senate have consistently shut down the Senate to enable senators to storm the venue of the CCT tribunal in a show of solidarity. In previous outings, more than 60 senators had showed up with Mr. Saraki at his hearings. Some civil rights activists have accused Mr. Saraki of using Nigerian taxpayers' time and funds to attend to his personal corruption trial.
According to
http://saharareporters.com/2015/11/...eceive-text-accompany-saraki-corruption-trial
, A copy of the text message to senators, read:
Gdevenin Distinguishr. Wish to inform dt Buses are available 2moro mrnin to convey Senators wishing to accompany H/E d Senate President.
Departure is at 9 am frm d house @ 22 Yesderan Str. by IGP's House Maitama. Regards. -Arthur (dir' of Prot. S/P).