Daily Trust newspaper has gathered that the National Assembly management has requested the presiding officers to reduce the number of their aides by at least 60 percent as part of cost cutting measures.
According to source, Senate President Bukola Saraki and the Speaker of the House of Representatives Yakubu Dogara and their deputies have hired over 400 aides.
Saraki alone controlled over 112 aides, Dogara about 170, Deputy Senate President Ike Ekweremadu 60 and Deputy Speaker Yusuf Suleiman Lasun 58.
But the assembly bureaucracy has lately asked the presiding officers and their deputies to reduce the figures drastically.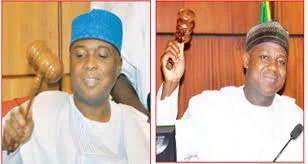 Sources said Saraki and Dogara have been requested to cut down the numbers to 25 each while Ekweremadu and Lasun should have 17 each.
The aides are in three categories - Special Advisers (SAs), Senior Special Assistants (SSAs) and Special Assistants whose salaries range between N700, 000 to over a million naira each.
Source:
DailyTrust