Prosecution witness, Mr. Michael Wetkas, in the ongoing trial of the Senate President, Dr. Bukola Saraki, before the Code of Conduct Bureau, said on Wednesday that some landed assets bearing the names of some companies actually belonged to the Senate President.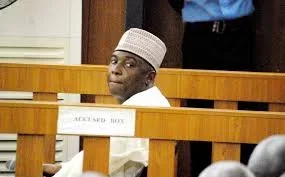 Wetkas, a detective with the Economic and Financial Crimes Commission, led the team that investigated the intelligence report that gave rise to the charges instituted against the Senate President.
Fielding questions under cross-examination, the EFCC detective faulted the claim of the defence lawyer, Mr. Paul Usoro (SAN), that the landed assets bearing the names of companies belonged to the firms and not to Saraki.
Wetkas said, "Even if the documentation is in the name of Carlisle Properties Limited, we are of the belief that the properties belong to the defendant because Carlisle Properties Limited is his company and he later declared the property as his own in the other asset declaration forms."
Wetkas confirmed that the two shareholders of Carlisle were Saraki's wife, whose name was given as Oluwatoyin Ojora, and another Limited liability company, Babs Trading and Manufacturing Limited.
He also confirmed that he did not confront Saraki with the claim that the company belonged to him.
The tribunal chairman, Danladi Umar, adjourned the trial till June 1 for further cross-examination of the witness.