Senate President, Dr. Abubakar Bukola Saraki, on Monday called for more powers for the Economic Community of West African States (ECOWAS) Parliament, if the aim of subregion to achieve full integration is to be realized.
Saraki made the call in his speech at the opening of the First Ordinary Session of the ECOWAS Parliament in Abuja, according to a statement by the Chief Press Secretary to the Senate President, Sanni Onogu, in Abuja.
The Senate President said that even though the ECOWAS parliament is evolving in the right direction, it was his fervent hope that members of the sub region will begin to invest in it, more responsibility and opportunity as a sure path to creating the right structure for closer integration of the sub-region.
Saraki said: "The ECOWAS sub-region has come a long way in pursuit of integration and development. However, what is clear today is that we need to do more. Other regional bodies including those who we inspired have moved faster towards integration than we have.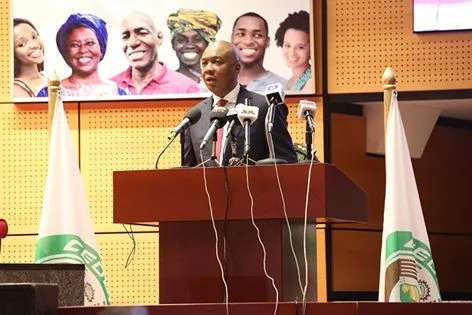 "Sadly, this has been due to our inability to add to the institutional building blocks and muster the courage to reorder our structures for the vision of a virile and integrated ECOWAS.
"The ECOWAS Parliament remains a critical place to start. We must as a necessity, give the parliament greater authorization and capacity to duly legislate on common areas and provide oversight on certain issues of common interest and interdependency.
"For as long as we are unable to, or fail to remit to this parliament more powers, the dreams for greater integration will remain a myth. This singular reason may be responsible for the lack of adequate cohesion in the fight against terrorism, cross border crimes and the implementation of agreed trade agreements and protocols.
"With greater oversight and authorization, it is possible that we would see greater inroads made in the areas of the enforcement of ECOWAS regional trade agreements and instruments especially the Common External Tariff Order," he said.