Assailants bombed and opened fire on a Shiite mosque in eastern Saudi Arabia during weekly prayers on Friday, residents said, in the latest attack on the minority community.
"They bombed the entrance of the mosque during the second prayer," in the Mahasen area of Al-Ahsa city, a resident told AFP, asking for anonymity.
"Then somebody got in. He started shooting the gun."
He added that "there are casualties" but could not give details.
The attack happened in an area largely populated by employees of the state-owned Saudi Aramco oil company, the resident said.
An interior ministry spokesman was unable to immediately give details, saying police were still trying to clarify the situation.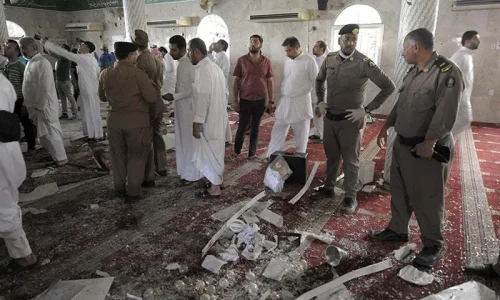 A video on social media purportedly showed the aftermath of the attack, where several people lay still on a carpet, surrounded by broken glass.
One man applied a tourniquet to the thigh of a victim whose white robe was soaked with blood, the video showed.
"People were so angry," and apprehended one of the alleged suspects themselves, the resident said.
"Police started shooting in the air so they could take him away."
Since late 2014 the Islamic State group has claimed several deadly attacks against Saudi Shiites, whom the group considers heretics.
- Guardian