Senate President, Bukola Saraki has cleared it name before the Senate ethics committee on alleged fake customs document for an SUV car purported belonging to him.
Saraki while appearing before the committee on Monday said it is important to clear his name as the documents are not in his name.
"I am not an importer and I know nothing about the agent or any clearing company
"It is important that I clear my name, the documents are there, and none of the documents are in my name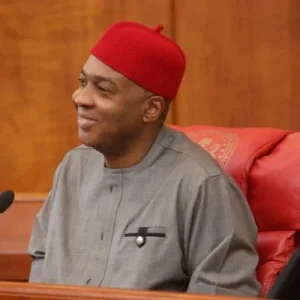 "I believe that this process is good and further strengthen our institutions. We will come and go, we must protect this institution", he told the Ethics committee.
Meanwhile, the agent, Mr Akindele said his company only found out that the clearing documents given to them by Nigerian Customs were fake in 2017.
The Committee has, however adjourned further hearing to Tuesday, 28th March to allow Nigerian Customs state it's role in the SUV documentation.
Recall that a Haulage driver named Ojo Aloba stated that he was hauling the Range Rover imported allegedly for use by Senate President Bukola Saraki before officers of the Nigeria Customs Service (NCS) intercepted and seized the vehicle.
In addition to seizing the Range Rover, reportedly for irregularities related to the use of fake documents to significantly reduce the import duty for the car, the customs officers also impounded Mr. Aloba's haulage truck.