Senate president, Bukola Saraki, has vowed that no amount of intimidation will stop the National Assembly from investigating the alleged N25 billion Treasury Single Account (TSA) fraud.
Mr. Saraki was reacting to a motion moved by Dino Melaye (APC-Kogi West) on Tuesday over a newspaper article allegedly blackmailing the Senate for pointing out the alleged fraud.
He said the Senate would not relent in carrying out its constitutional duties, including pointing out any action that would be detrimental to Nigerians.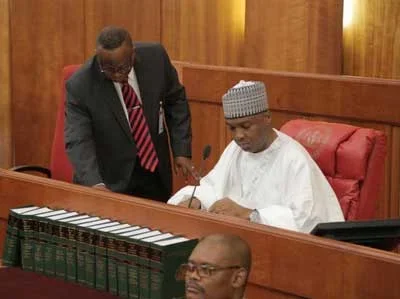 "We did not at any time in this Hallowed Chamber implicate President Muhammadu Buhari of being involved in TSA fraud."
"We will not stop carrying out our legislative duties for fear of being blackmailed", he said
"No amount of either blackmail or intimidation will stop us from doing the work we have to do.
The Senate had on Nov. 11 raised alarm over alleged payment of N25 billion to one e-collection firm, REMITA, in one day as one per cent of monies transferred to TSA.
It also directed its Committee on Finance, Banking and other Financial Institutions and Public Accounts to carry out a holistic investigation into the matter and report back in two weeks.
Amid public outcry, the Nigerian government on Monday said the Buhari administration would not condone fraud and that the Minister of Information and Culture, Lai Mohammed, dismissed as a "contrived distraction" the alleged fraud in the Treasury Single Account, TSA, and the rumoured diversion of the TSA funds to bankroll elections in Bayelsa and Kogi States.
Source: Premium Times