Minority Leader of the Senate, Senator Godswill Akpabio has incurred the wrath of his Peoples Democratic Party (PDP) colleagues in the Senate over what senators of the PDP have reportedly described as Akpabio's involvement in "anti-party activities", Signal NG reports.
According to Signal, an online platform, trouble began for Akpabio when he was spotted two weeks ago, during a secret visit to Asiwaju Bola Ahmed Tinubu, a national leader of the ruling All Progressives Congress (APC).
The source disclosed that Akpabio Wednesday, had paid a secret visit to Tinubu at his Bourdillon Lagos residence but was sighted by some individuals who instantly alerted the Deputy Senate President, Senator Ike Ekweremadu.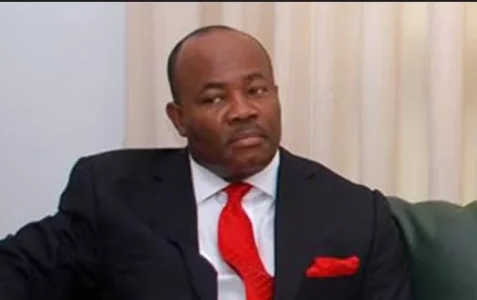 According to the source, Akpabio dismissed the matter casually when Ekweremadu confronted him, saying he visited Tinubu over some "personal issues."
Akpabio's attitude was said to have infuriated Ekweremadu and the matter quickly escalated to the entire PDP caucus in the Senate.
"The whole thing did not go down well with Ekweremadu and the PDP caucus in the Senate who were concerned that their Leader in the Senate who should be actively engaged with providing leadership and a voice for the PDP opposition is busy hobnobbing, not just with the ruling party but one of its most influential chieftains who played a key role in providing the funding, structure and media propaganda that kicked the PDP out of power in 2015 after 16 years".
Read More