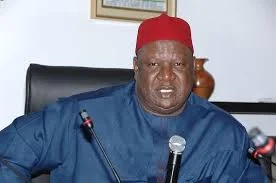 Secretary to the federal government of Nigeria senator Anyim Pius Anyim has urged the different factions of the Nigeria Football Federation(NFF) to allow peace to reign in order to move Nigerian football forward.
Anyim who met with football stakeholders on Sunday to help resolve the issues existing within the cabals advised them to come together and chart a way forward.
He further advised that the NFF congress should go on as planned on August 26, 2014 in Abuja,and then two weeks after the elections will hold.
"We take note of the decision of the NFF Executive Committee to ask the members of the upcoming congress on 26 August 2014 to consider a new roadmap for the elections, which should be held by no later than two weeks after the congress.
"We also understand from your correspondence that the members of the congress will also decide on the composition of the electoral committees whose legitimacy had been put in doubt by some members.
"The congress being the highest decision making body of any football association, we approve of the above plan, and as previously stated, we are supportive of an electoral process that is free and open to everybody, thereby fulfilling the requirements of the NFF regulations."
Last edited by a moderator: