Nigeria's civic entrepreneur, and co-founder, of BudgIT, a civic organization that applies technology to intersect citizen engagement with institutional improvement, Oluseun Onigbinde is billed to join other amazing speakers at this year's African Students For Liberty West African Regional Conference which will take place from Friday, 27th of October to Saturday, the 28th of October at the Conference Centre Hall, University of Ibadan, Nigeria.
Nigeria's LGBT rights worker, Olumide Makanjuola who leads The Initiative for Equal Rights (TIERs), is also among the confirmed to be among the speakers at the 2-day conference.
The organisation, ASFL, is a continent-wide organization that promotes the ideas of individual and economic freedom to students and young people across Africa, with a membership base of over 6,000 students and over 200 trained leaders who commit to a year-long engagement. ASFL has its presence in 22 African countries, thus making it the largest libertarian organization in Africa, that identifies, develop and support the next generation of African advocates for individual and economic freedom.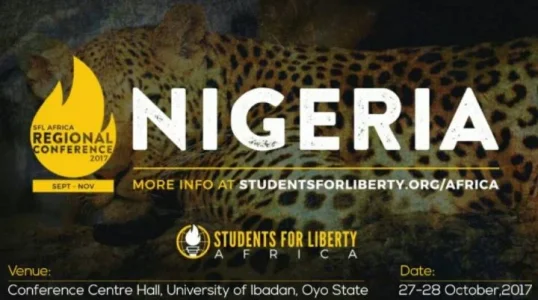 Similarly, Chika Oduah, Nigerian-American award-winning Al-jazeera journalist who covers human rights, culture, conflict and development in sub-Saharan Africa will also be at speaking at the event. Oduah, whose works have appeared in The New York Times, The Guardian, CNN, The Atlantic, BBC and France24, rose to recognition through her thorough and exclusive coverage of the kidnap of 276 chibok school girls in 2014.
Other speakers include: Maria Goretti-Ane, African Consultant for International Drug Policy Consortium; Timi Olagunju, a Mandela Washington Fellow and a technology lawyer, with core capacity in open governance; Chukwemeka Ezeugo, founder of African Christians For Liberty; among many others.
To attend register for FREE via
ASFL West African Regional Conference