Embattled cleric, Apostle Johnson Suleman has dismissed the sex scandal alleged against him by canadian-based Nigerian stripper, Stephanie Otobo, and claimed that the truth will be revealed in 24 hours.
Otobo has claimed that the pastor impregnated and abandoned her. She also said Suleman loves sex a lot and they had spent time together at hotels in Naples, New York and Lagos.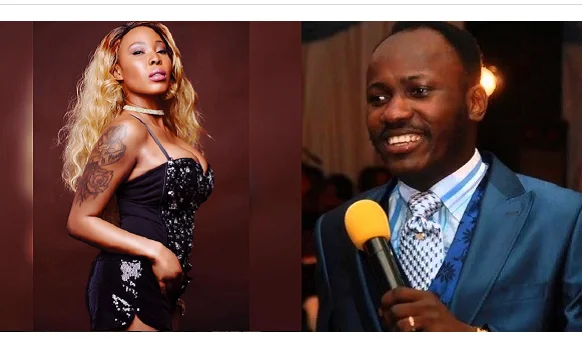 But Suleman, preaching at his church headquarters in Auchi, Edo State on Sunday said, "God just told me something, 'That in twenty-four hours Marine will be disgraced publicly. I'm not just prophesying on you, I'm prophesying on myself. In twenty-four hours the truth will be exposed. The Marine kingdoms will be disappointed. I'm saying something else and He (God) is telling me something else, He (God) just whispered that to me now. He (God) said in twenty-four hours, kingdom of the waters and their representatives that made themselves available tools will be disgraced, and they shall know that I AM THAT I AM has sent me." He said.
24 hours after, Suleman's prophecy that the truth will be revealed is yet to come to pass. Instead on Tuesday, he accused Kaduna State Governor, Mallam Nasir El-Rufai of masterminding the recent series of spurious allegations of infidelity against him.
This was contained in a statement issued in Abuja on Tuesday, the church, through its spokesman and Communications Manager, Phrank Shaibu, stated that facts and available intelligence incontrovertibly pointed to the Kaduna Governor as the mastermind of the allegations.
According to him, El-Rufai decided to sponsor the allegations as a strategy to silence Apostle Suleiman and to take revenge for the latter's famed audacity of standing against the persecution and killing of Christians in Southern Kaduna.
Could this be the truth Apostle Suleman prophesied about? It was just an accusation. And the governor is yet to give a reaction to it.
In another development, Stephanie Otobo, in an interview with TVC demanded a public apology from Suleman for the humiliation she has gone through.
Nigerians still await the truth that will be revealed as prophesied by Suleman. But, it is more than 72 hours already.