Infamous Boko Haram terrorist, Abubakar Shekau, has appeared in a new 24-minute video vowing to fight Nigeria and the whole world.
In the new video, Shekau was shown wearing a camouflage gear and holding a machine gun. On each of his sides were two Islamist fighters in balaclavas armed with rocket-propelled grenade launchers.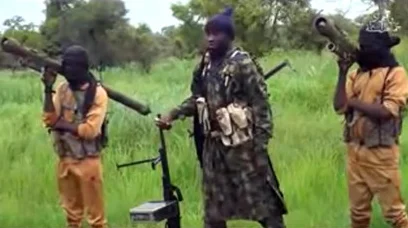 "I… Abubakar Ash-Shakawy (Shekau), the leader of Jama'atu Ahlissunnah Lidda'awati Wal Jihad, made it a duty for myself (to fight) Nigeria and the whole world," he said.
"We have no desire to fight our Muslim brethren," Shekau, said and ridiculed suggestions that he was dead.
"I'm alive by the permission of Allah," he said in his speech in Arabic and Hausa, adding that he would only die when his time came.
He fired a round of bullets in the air to end the video.
Vanguard