The Abia State Commissioner for Agriculture , Dr. Ken Nwosu, who was shot last week Wednesday by some gunmen, is dead.
Announcing the death on Tuesday in Umuahia, the Commissioner for Information, Eze Chikamnayo, said the commissioner died on Monday night at the Abia State Specialist Hospital where he was hospitalised after the attack.
He said the government made spirited efforts to save his life, adding that arrangements had been perfected to fly him abroad, but doctors said he had to be put on stable condition first.
Click here to read more
SOURCE: #Punch
#Abia #KenNwosu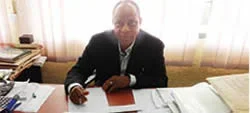 Photo Credit: Punch