Sokoto state government has disbanded the state Hisbah Commission, a day after Daily Trust reported the seizure of musical instruments used during Governor Aminu Tambuwal daughter's wedding by the Commission for allegedly violating Shari'ah law being implemented in the state.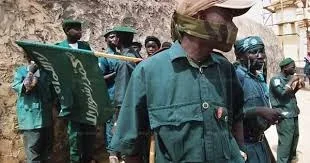 Commissioner, Religious Affairs, Sokoto Alhaji Mani Katami announced this in a chat with newsmen.
Katami said the decision was taken on Saturday at a meeting with the leadership of the three factions of the commission with the officials of the Ministries of Religious Affairs and Justice.
He said that the three groups had failed to harmonize themselves into one group, for efficient and united operations.
'' The state government had given them a grace of over one year to do so, but the harmonization in line with the Act establishing the commission has proved abortive," he stated
The Commissioner added:'' This has allowed unnecessary bickering, unilateral operations, while myriad of complaints were received from the members of the public about the alleged overzealousness and high handed of its operatives.''
He however directed the chairman of the commission, Dr Adamu Kasarawa, to immediately hand over all documents and property to his office.
Reacting, the Commandant of the Commission, Adam Bello Kasarawa hinged the state government's action on the recent seizure of musical instruments used at the pre-wedding dinner of the daughter of Governor Tambuwal which did not go down well with them.
"I have been receiving calls since the seizure was reported by your papers, some were even threatening to attack their office.We don't believe in selective implementation of Shari'ah law and what we had done was in line with our mandate," he stated.
He denied operating unilaterally and that neither was there any faction in the commission, saying "it is only that some officials were not happy with some of our recent operations."