A six-month-old baby was allegedly kidnapped and ritually murdered by a sorcerer who promised a man the gruesome sacrifice would grant him a child.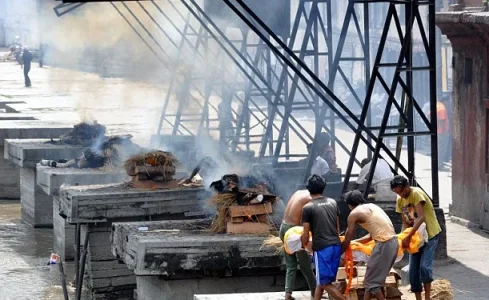 The young girl was stolen from her parents' home in Jharkhand, eastern India, as they slept with the door open to counteract the blazing heat.
Two men have now been arrested, including a man regarded as a sorcerer who lived next door to the family.
According to the Hindustan Times, the helpless baby was cut with a dagger at a burning ghat - a small fire by a holy river that is used for cremation - and then put into the flames.
The baby girl was cut with a dagger and burned in a ghat (shown in a stock image above) by the duo in a reported bid to appease a god and deliver a child to one of the men +1
The sorcerer - named Karmu Kalindi - had told Bhadohi Kalindi that if a newborn baby were slaughtered in a ritual fashion, it would appease a god and provide the man and his wife with a baby of their own.
Sub-divisional police officer Sandip Bhagat said the duo had penned statements explaining they buried the body of the baby on a river bed after dripping its blood into the burning ghat.
He added: 'We have solved the child-theft mystery. The accused have confessed to their crime. The dagger they had used for sacrificing the child has been recovered.'
The child originally went missing at the end of last month, increasing fears in the area that child-snatchers were prowling for newborns.
Furious mobs have already claimed the lives of nine innocent men in separate incidents after they were accused of attempting to steal children.
Such practices are said to be common in the state, where self-proclaimed healers attempt to fool illiterate and healthcare-deprived residents.
The parents of the child, Subhash Gope and Parvati Gope, said they wanted the death penalty for the killers.
They reportedly sought help from sorcerers themselves in hunting down the perpetrators.
Source: Daily Mail