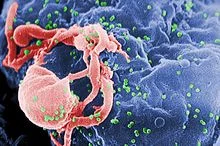 CAPRISA, the Cenetre for AIDS Programme of Research in South Africa has announced on Tuesday that it has discovered potential antibodies that can neutralize and destroy multiple HIV strains.
Aaron Motsoaledi, South African Health Minister said in Johannesburg that research showed how a South African woman's body responded to her HIV infection by making potent antibodies, broadly called neutralising antibodies.
He said the study, which has now been published in the scientific journal, ``Nature'', describes how the team found and identified the antibodies in her blood and then duplicated them by cloning the antibodies in the laboratory.
Motsoaledi said that the cloned antibodies were then used in a series of experiments in the laboratory to elucidate the pathway followed by her immune system to make these potent antibodies.
The minister said South African consortium worked jointly with U.S. partners based at the Vaccine Research Center of the National Institute of Allergy and Infectious Diseases, part of the National Institutes of Health, and Columbia University in New York.
``We are a step closer to the day where we eventually have a viable vaccine because of what has been announced today,'' he said.
``This announcement tells us a little more about HIV. These studies illustrate the importance of research and need for patience and dedication," he added.
Motsoaledi thanked the HIV community for participating in these studies, and stressed the need to support scientists in their devotion to find a vaccine that could stop people from being infected and finding a cure for the HIV infected.
He noted that the South African Department of Health (SADH) had more interest in this development than anyone else in the world, as 30 per cent of all people on treatment in the whole world were in South Africa.
He also appreciated those living with HIV and AIDS, who willingly took part in the research.
Prof. Lynn Morris, Head, National Health Laboratory Service, Wits School of Pathology, said the findings could lead to new HIV vaccine strategies enabling to stimulate the rare precursors of these protective antibodies.
Prof. Salim Abdool-Karim, Leader of the CAPRISA consortium and President of the Medical Research Council, said the new insights brought hope for future HIV prevention and treatment strategies.
He said that all HIV infected people respond to HIV by making antibodies, adding that in most patients, these antibodies were not able to kill a wide range of HIV - this is described as a lack of neutralisation broadly neutralising antibodies against HIV.
Abdool-Karim said however in a few infected people, they naturally make antibodies that neutralise many different kinds of HIV, with their broadly neutralsing antibodies.
In 2009, SADH unveiled 10 point programme to fight against HIV and AIDS.
Just over a year ago, the same team of South African researchers reported in Nature Medicine on their discovery relating to two other women, that a shift in the position of one sugar molecule on the surface of the virus led to the development of broadly neutralising antibodies against HIV.