South Africa's Constitutional Court has ordered President Jacob Zuma to repay some of the $16 million in public funds used for upgrades at his private home.
The 11 justices of the Constitutional Court unanimously ruled that the President should reimburse some of the sum spent on the renovations, the amount of which will be determined by the national treasury.
According to CNN, the treasury has 60 days to file a report detailing the amount, and Zuma has 45 days after that to pay the money.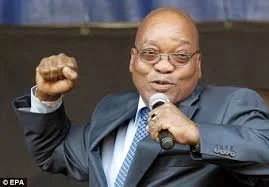 The court said Zuma "failed to uphold, defend and respect the constitution, as the supreme law of the land" with regard to the upgrading of his homestead in Nkandla, about 300 miles south-east of Johannesburg.
"The constitution, rule of law and accountability are the sharp and mighty sword ready to chop off the ugly head of impunity," the court added.
The decision seems to settle the controversy that dates back nearly seven years, when Zuma embarked on the renovations soon after he resumed office for his first term.