Controversial South African Pastor, Penuel Mnguni of the End Times Disciples Ministries in Soshanguve, Pretoria, on Sunday visited Nigerian cleric, TB Joshua at his church, Synagogue Church of all Nations in Nigeria and explained why he had fed his congregants live snakes.
Mnguni made headlines in 2015 after feeding his congregants live snakes, live rats, underwear and their own hair. He also put one of them in a freezer for more than 30 minutes, trampled and jumped on them, drove a car over them, and placed big speakers on them. He also rode on one of his members as if he was on a horse.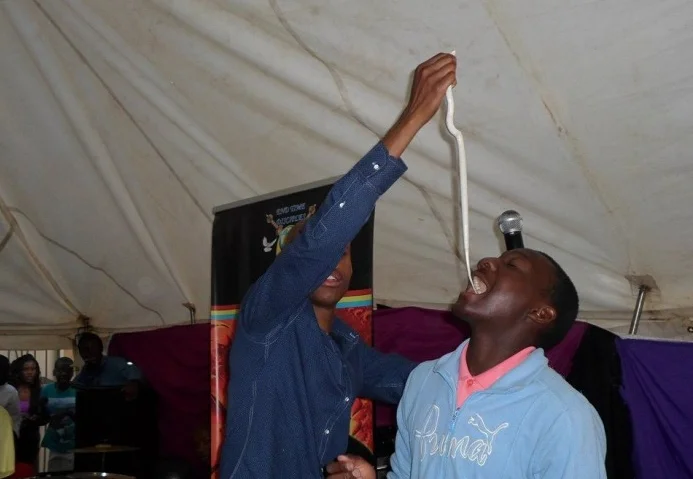 His demonstrations landed him in hot water with the SPCA, which ended up opening a case against him. He was arrested, and later released.
Speaking to TB Joshua at his church, Mnguni, who described himself as an "overseer" of his church, said he had misinterpreted the Bible and did what he thought was scriptural at the time.
It was after watching TB Joshua on TV that realised what he was doing was wrong. He said he went to Nigeria to seek deliverance from the prophet.
He said:
"My name is pastor Penuel Mnguni from South Africa, a general overseer of End Time Disciples Ministry based in South Africa. I am known as 'snake pastor'. I'm popularly known as the 'snakes pastor' due to the demonstration that took place in my ministry when I gave live snakes to my congregants to eat.

"It started when I was teaching the word of God, Mark 16: 16 – 18, where it says: 'he that believes in me, these signs shall follow them; they shall pick up snakes, they will even drink deadly poison and it shall not harm them. And also Romans 14, where it says to those who believe, to those who have a strong faith, they can eat anything. And to those who have weak faith, they can only eat vegetables.

"After my message, I demonstrated and I gave them snakes, live snakes, to eat. After that, the media all over the world, all the newspapers in South Africa, even outside the country, they were running after me, following me everywhere, even the government was attacking me.

"SPCA opened a case against me, I was arrested then I was released. I came to realise that what I was doing was not written in the bible.

"I started watching Emmanuel TV, listening to prophet TB Joshua, I came to realise that what I was doing was not scriptural. I came to realise that It's an attack. I came to TB Joshua to deliver me."

TB Joshua also confirmed this via his twitter handle: