The Indigenous People of Biafra, (IPOB) has accused South East governors and politicians of trading off Ndigbo for personal and selfish political interest.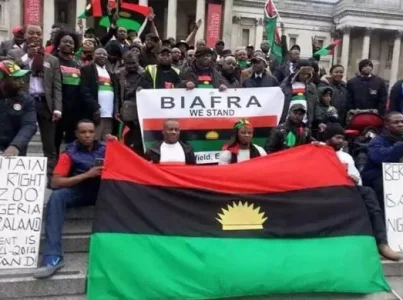 The Group specifically, claimed that by hobnobbing with the All Progressives Congress, APC led Federal Government, the governors were doing so at the detriment of their Igbo brothers and sisters.
IPOB in a statement by its Media and Publicity Officer, Mr. Emma Powerful, alleged that South East governors and politicians, members and non members of APC had so much compromised themselves or kept quiet for one political favour or the other, making them to turn blind to the killings in Igbo land by Fulani herdsmen.
According to the statement: "The first attack by Fulani herdsmen in Enugu state that resulted to the arrest of over 76 persons who were searching for the whereabouts of their loved ones after the attack, and their subsequent arrest by the security agents, particularly the police and detaining them at Police Zone 9 Umuahia and subsequently arraignment was not condemned by the South East governors and politicians, and that emboldened them for the next attack in the state of Ukpabi Nimbo community in the state.
IPOB also accuse the South East governors of using 'the life of their brothers and subjects to play game of politics, trading them off to the APC government for crumbs they are expecting from the government that has nothing to offer Nigerians let alone Igbo Governors and politicians.'
Source: Vanguard