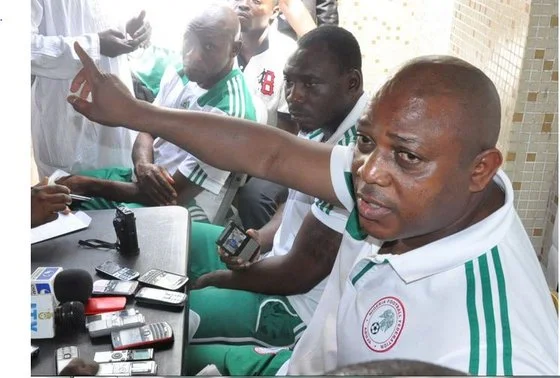 Stephen Keshi has agreed to come back to the Super Eagles after the sports minister,Tammy Danagogo pleaded with him to take charge of the team until his position is sorted out with the Nigeria Football Federation(NFF)
Keshi had series of contract negotiations with the NFF,but both parties failed to reach a compromise over a new deal.
With the 2015 Africa Nations Cup against Congo and South Africa next month looming closer,Nigeria would have been without a coach unless an interim one was appointed.
Keshi did draft the 23-man list for these games but admitted last week that he was walking away from coaching Nigeria.
However after speaking with Danogogo,he now agreed to come back and coach the team,with assurances that contract talks will be reopened afterwards.
According to the minister, Keshi will go on with his job as Super Eagles coach while the negotiation continues and the contract finally approved and signed.
"Keshi has agreed to carry on with the job because of his love for the team and the country and because of my intervention which was necessitated by the prolonged negotiation between him and the NFF," the Minister said yesterday.