The arm of justice has caught up with Nyanya bomb mastermind 'Sadiq Ogwuche' as he has been handed over to the Nigerian government for prosecution.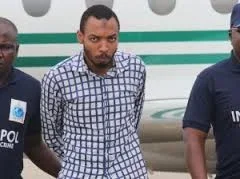 The director of the International Criminal Police Organisation (Interpol) bureau in Khartoum Col. Muatasim Abdel-Rahman al-Kagan said Sudan has extradited the member of the Islamist rebel group Boko Haram to Nigeria, SudanTribune reports.
Aminu Sadiq Ogwuche was arrested in May 2014 in Khartoum. He was fingered as the mastermind of the 14 April 2014 bomb blast in Nyanya, Abuja which killed at least 75 people and injured 200 others,.
The Sudanese government had previously said there are 17 conditions to be met before handing over the suspect to Nigeria including amending the bilateral agreement on extradition of criminals.
Ogwuche, a student of Arabic language at Khartoum's International University of Africa, is a British-born Nigerian who was a former serviceman with the Nigerian army. He is known to have deserted the army in 2006.