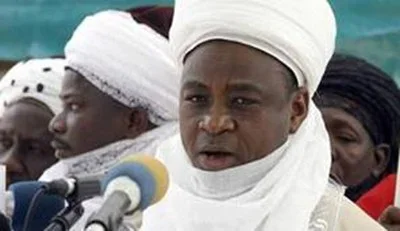 The Sultan of Sokoto has called upon the Boko Haram terrorist sect to lay down their arms and embrace peace in the nation.
In his message, he asked Muslims all over the country to make good use of the last ten days of Ramadan to seek for the night of power.
The message, contained in Vanguard newspaper, reads this:
''The Sultan of Sokoto has called on Nigerian Muslims to mark the significance of the last 10 days of Ramadan by maximally reciting more of the Qur'an; being punctual in observing the daily obligatory prayers- the Tarawih and Tahajjud in congregation
"They are also implored to intensify their generosities in giving alms to the poor, the needy, the orphans and the handicapped in the society, especially to families living from hand to mouth.
"More importantly, they should watch out for Laylatul Qadr (the Night of Power) which often comes up on one of the five exceptional nights within the last ten nights of Ramadan- the five nights.
"As always, we urge the Muslim faithful to intensify prayers for the Ummah against all manners of upheavals; particularly special prayers (Al-Qunuut) for the people of Borno State, the entire North East and the nation at large, should be offered, as they are being massacred with seeming impunity almost every day.
''The Sultan wishes all Muslim faithful Allah's pardon in the sacred days and after, and urges them to pray fervently for Allah's acceptance of their Ramadan Fast.
''The Sultan then called on all those who had taken up arms against the state to rescind their decision and become peaceful during the Ramadan and after.''
- See more at:
http://www.vanguardngr.com/2014/07/sultan-appeals-boko-haram/#sthash.aXjTbSxR.dpuf