Tragedy struck in Christians' holy land, Jerusalem on Sunday as Four Israeli officer cadets were killed in and a dozen wounded when a Palestinian attacker driving a truck ploughed into them deliberately.
Police said the dead, three women and a man, were all in their twenties, but did not identify them. Among the wounded three were described as in a serious condition.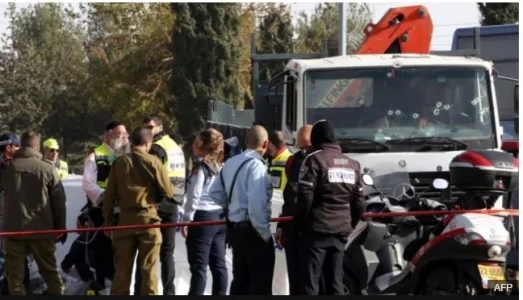 The Israeli prime minister, Benjamin Netanyahu, said "according to all the signs [the attacker] was a supporter of the Islamic State" but did not offer any further details. No claim of responsibility has been made for the attack.
The attack took place as a large group of Israeli soldiers visited a scenic outlook overlooking modern Jerusalem and the Old City.
The driver was shot dead by other soldiers and a tour guide with the group that was hit as the driver reversed back towards the dead and injured.
Graphic security camera footage shot from a distance showed the truck racing towards a group of soldiers standing by their bus and then driving through the group, scattering bodies. After a gap of a few seconds the truck is seen reversing into them again