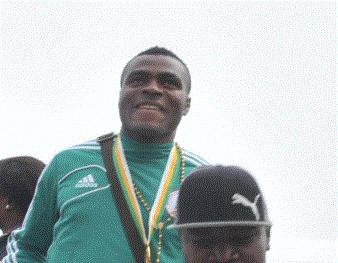 Super Eagles striker Emmanuel Emenike has revealed that he alone cannot shoulder the burden of Nigeria's expectations at the 2014 FIFA World Cup tournament.
Many hopes are on Emenike to deliver the goals for Nigeria,with the Super Eagles seemingly short of top strikers to adequately find the back of the net.
However,Emenike said that he is not the hope of the team but would rather make his own contribution in helping the team succeed in Brazil.
"No, that is wrong. I appreciate the fans for their love. I am not the Messiah in the Eagles, I am here to contribute my quota to the team," the 27-year-old Fenerbahce star was quoted by AfricanFootball.com as saying on Wednesday.
"If I have an opportunity to score, I will, and if it is any of my teammates, I will celebrate because what matters is the result and not the goal scorers. So, I need them and they need me to make the team great. I will not bow to any opponent until the referee's final whistle."
Emenike came to the limelight in South Africa last year,where emerged the top scorer at the African Nations Cup which Nigeria won.