The apex court has maintained that though the use of the Electronic Card Reader Machine for accreditation of voters was provided for in the Approved Guidelines and Regulations for the conduct of the 2015 general elections, it said the device was never "intended to supplant, displace or supersede" the Voters' Register.
Here are the other points outlined by the Supreme Court...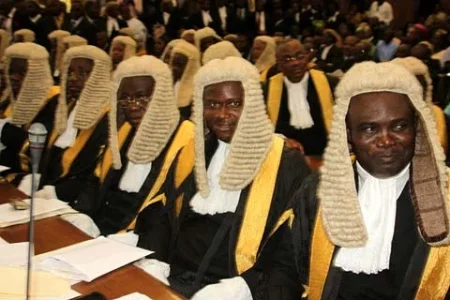 - the National Assembly, in its wisdom, did not deem it necessary to bowdlerise the said analogue procedure in section 49 from the Act so that the Card Reader procedure would be the sole determinant of a valid accreditation process.
- from the Corrigendum No 2, made on March 28, 2015, amending paragraph 13(b) of the Approved Guidelines, it stands to reason that the Card Reader was meant to supplement the Voter' Register and was never designed or intended to supplant, displace or supersede it.
- the Guidelines and Manual, which authorised the use and deployment of the electronic Card Reader Machine, were made in exercise of the powers conferred by the Electoral Act, the said Card Reader cannot, logically, depose or dethrone the Voters' Register whose judicial roots are, firmly, embedded or entrenched in the selfsame Electoral Act from which it ) the Voters' Register).
- any attempt to invest it (the Card Reader Machine procedure) with such overreaching pre-eminence or superiority over the Voters' Register is like converting an auxiliary procedure- into the dominant procedure- of proof, that is, proof of accreditation.
Aside the CJN, other members of the apex court panel that also agreed with the lead judgment were Justices Ibrahim Tanko Muhammad, Kumai Bayang Aka'ahs, Kudirat Kekere-Ekun, John Inyang Okoro and Amiru Sanusi.
Vanguard