Justice Lateef Lawal-Akapo of an Ikeja High Court today ruled that the two engineers, who constructed the collapsed seven-storey guest house of the Synagogue Church of All Nations — Akinbela Fatiregun and Oladele Ogundeji — are to remain in Kirikiri Maximum Prisons till May 3, 2016.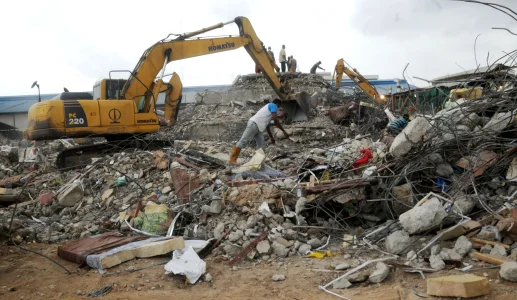 The News Agency of Nigeria (NAN) reports that the engineers were on April 26 ordered to be remanded in Kirikiri Prisons by Lawal-Akapo following their `not guilty' plea to a 111-count charge bordering on gross negligence and criminal manslaughter.
Earlier during Tuesday's proceedings, counsel to Fatiregun, Mrs Titi Akinlawon (SAN), in her submission before the court, promised that the defendants would not jump bail.
"Since the entire essence of remand is for the defendant not to jump bail, the defendant going by his antecedents, has proven himself to be honourable by not jumping bail on previous occasions,"Akinlawon said.
Mr Olalekan Ojo, counsel to Ogundeji in his application before the court, said Ogundeji needed to be on bail in order to build his defence.
He said: "The case of the prosecution is founded on gross negligence, it will collapse or succeed on the strength of experts' opinion and it is not pertinent for anyone to state the evidence is overwhelming on technical issues.
The collapse of the guest house on Sept. 12, 2014 led to the deaths of 116 persons, 85 of who were South Africans.