Prophet T.B Joshua of the Synagogue Church of All Nations, SCOAN said those who hate on him are his advertisers.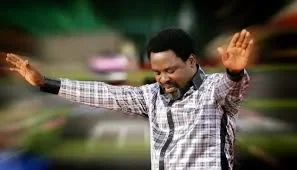 Addressing his congregation in Lagos, he said, "God has given us adverts. Every living ministry has free adverts. What you say about me is an advert to me. If you leave here today and tomorrow, go to town and say,
''That man is a devil, not a man of God' – you are advertising me! 'Don't go there; they used to tie people down. It's a bad Church. You are indirectly advertising me because the people you are telling will want to confirm whether truly they tie people down. By the time they come and find people are not tied down, they become members! So, I have been using this advert for many years but people don't know. This is why I don't have a signpost.
''This is the advert God has given me for the past 30 years. God said, 'Don't have any signboard – God will advertise your ministry to the world free of charge.' Thank you for your advert! Let people advertise you. Don't fight. If truly you are genuine, whatever people say about you – whether they condemn you, spoil your name or praise you – it is for your good. Don't fight; take it easy. What people say about your business, family and life out there – they are for your good. If truly you are sent by God, it will turn around to favour you!"he said