The Nigeria Union of Petroleum and Natural Gas Workers (NUPENG) has said its Petroleum Tanker Drivers had been mobilised to ensure no movement of petroleum tankers as their nationwide strike begins on Monday.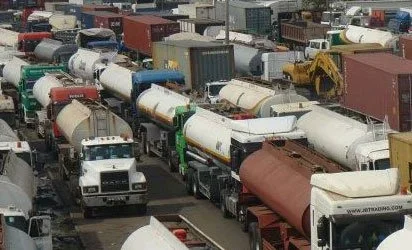 Alhaji Tokunbo Korodo, the South-West Chairman of NUPENG Lagos Council, made the assertion on Sunday in an interview with the News Agency of Nigeria (NAN) in Lagos.
According to Korodo, all the tanker drivers have abandoned their trucks in respect of the indefinite strike which will begin on Monday unless the Federal Government intervenes.
The chairman said the drivers were forced to down tools due to unresolved issues concerning their welfare, poor remuneration, insecurity and bad roads.
"The tanker drivers for the past three years have been appealing to the Nigeria Association of Road Transport Owners (NARTO) to increase their salary but they refused on the ground that spare parts had increased.
"NARTO said that government has not increased their fares, so they will not increase their salary.
"Apart from this, most of the roads they ply are bad and this has resulted in accidents or damaging their trucks.
"The activities of the official of Nigeria Security and Civil Defence Corps on the roads is not helping the matter,'' Korodo told NAN.
"The tanker drivers are forced to break the seal off their product on the pretext that they were carrying adulterated product.
"Most of these drivers are harassed by these officers, at times the tanker and the driver will be detained for close to a month,'' he said.
Korodo also said that more than 2,000 staff of Capital Oil and Gas Ltd., were on the line due to their closure by the Federal Government due to some issues between the company and NNPC.
He said that the union wanted the government to resolve the matter so that the company would be opened and the staff and tanker drivers would resume duty.
The chairman, however, said that the strike would not affect activities in filling stations, depots or refineries across the nation.
NAN