A prominent Sierra Leonean politician, Mrs. Kargbo Fatmata, has alleged that the arrival of 4,000 bottles of TB Joshua's holy water to her nation was the key to the eventual decline of the alleged incurable disease, Ebola, Daily Post reports.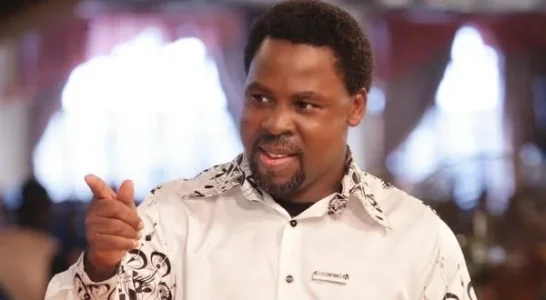 Fatmata, the Permanent Secretary in the Ministry of Foreign Affairs in Sierra Leone, gave the 'startling' revelation in Lagos, Nigeria, at The Synagogue, Church Of All Nations, SCOAN, on Sunday, 1st November, 2015.
According to a prophecy disclosed via SCOAN's television station, Emmanuel TV, the prophet had allegedly prophesied in August 2014 that his 'Anointing Water' had the ability to cure the deadly Ebola virus which had ravaged several West African countries.
According to Fatmata, "I am very disturbed and have had sleepless nights for not giving this testimony.
"When T.B. Joshua announced his desire to send Anointing Water to the countries affected by Ebola, I immediately contacted the presidency," she explained, adding that, "after the government accepted his offer, she was appointed to head the team that would receive the blessed 'water' with alleged healing powers."
"I received the Anointing Water at the airport and submitted the consignment to the President," Kargbo revealed. However, the devil fought hard and we faced a lot of opposition and obstacles," she added.
Continue reading: -
DailyPost