Former Minister of Aviation and Chieftain of the Makarfi-faction of the Peoples Democratic Party, PDP, Femi Fani Kayode has said that he will reveal shocking details surrounding the collapsed building of the Synagogue Church Of Nation owned by Pastor Temitope Joshua.
This is coming almost a month the embattled politician visited Prophet Joshua of the Synagogue Church of All Nations (SCOAN) and described him as a true and great man of God.
Fani Kayode said the target of the perpetrators was Pastor Joshua and his successes as a church.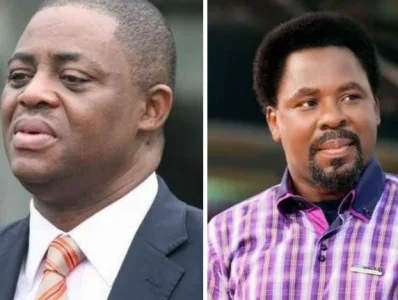 He said: "The truth about the mysterious plane that hovered over Prophet TB Joshua's Church before it collapsed and killed 126 people will soon be out "
"I'm still doing the research before writing and it is blowing my mind. One thing is clear-the plane brought down the building and the target was TB Joshua and his great success.
"This was an evil and cruel act and I intend to expose those that were behind it ", he said on his social media account on Tuesday.
The 2014 Synagogue Church building collapse took place on 12 September 2014, when a guesthouse located within the Synagogue Church premises around Ikotun-Egbe area of Lagos State collapsed completely to the ground.
Prophet TB Joshua had linked the tragedy to a strange aircraft "hovering" above the building shortly before it fell. The case is still at the Lagos High court.