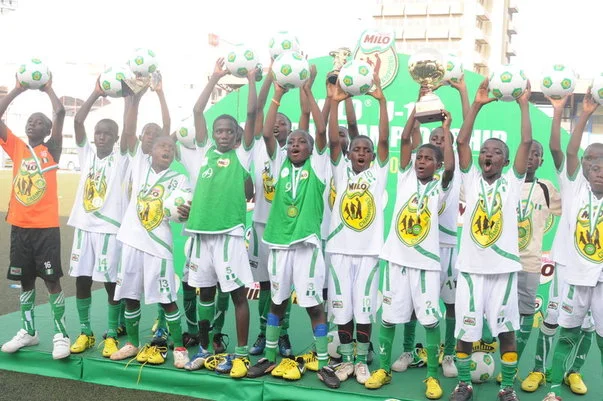 Team Nigeria last weekend emerged winners of the Nestlé MILO Under 13 Africa Football Championship after defeating rivals Ghana.
Nigeria and Ghana are perennial arch-rivals,a feeling that extends across board in all the national teams of both countries.
It was a keenly contested affair between the young footballers,but Team Nigeria prevailed to beat Team Ghana 5-4 on penalties.
It was an eventful tournament for the Nigerian team with their players carting home the top awards in the competition.
Four goals in just two matches by Mustapha Adam Agba was enough to win him the competition's golden boot.
While the Nigerian skipper Olakunle Olusegun, won the Most Valuable Player Award of the competition.
South Africa placed third in the competition after a comfortable 4-1 routing of Kenya in the classification match.
Meanwhile,former Super Eagles captain, Nwankwo Kanu, expressed his satisfaction seeing the Nigerians win the trophy.
"You can see they really have the talent, I'm happy for the Nigerian kids but the Ghanaians also played very well. I'm proud of the boys,"Kanu said
Chief Executive of Nestlé Nigeria PLC,Dharnesh Gordhon assurred that the company would continue to strive help in the development of sports in the country.
"Sports have qualities that set the foundations for a child's future. It is through participating in sports that they will learn to persevere through hardship, find courage over fear, work as a team, be respectful and learn how to lead."