The other day I was in the midst of what I thought were reasonable people, some lawyers, engineers, real estate guy's and as usual the topic of conversation was our dear country Nigeria.
When someone said, " Abegi president Buhari should bring back our corruption" To my surprise, everybody was laughing. I missed the joke but I could swear the speaker was expressing the sentiment of the people I was with who were engulfed in a Mumu laughter.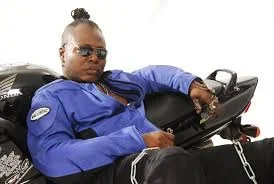 Who in Nigeria wey go say him no know say corruption na 99% of our wahala.
Why na so so mumu people full dis country. How can anybody govern a people who celebrate corruption the way we do and then cry when the damage is done, like say they had no idea where it came from. Kai, weytin be our problem Sef.
I swear to God, even Jesus, cannot govern a country wey still dey celebrate a president who presided over the wanton pilfering of its resources. And some Mumu nigerians go dey wish he could come back to power. Na wa o.
Most people for Naija dey Craze, we dey Sick, many of us dey Mental. I am sure you must have heard/read about the former NNPC Boss, Andrew Yakubu who typifies what is Damaging the Nigerian brand. I even know some for my village Oguta. The Evil in the hearts of these men/women who are Mindless and Mean is for sure the Bedrock of our Recession; Unemployment; Suffering; Hunger and an Infrastructural decay as trillions and billions of our monies are diverted to personal pockets.
Just recently, see how much of our looted fund was forfeited to the Government of President Muhammadu Buhari.
$153 million = Diezani Allison Madueke
$15 million = Patience Jonathan
N4billion = NIMASA boss
Heartbreaking N1trillion = Ex-Service chiefs .
N111million = INEC Staff
$9.8 million & £74,000 = Andrew Yakubu
4.7bn arms fund = Obanikoro/Fayose
N11.7 billion mansion built by Deziani in banana island Lagos.
Haba Haba Haba, Kilode what is this. Stealing competition?
But Andrew Yakubu own vex me die. Look at the place that $9.77m and another £750.000.00 was found in Kaduna. Begin to Imagine how on earth that almost $10million gift was given to that useless criminal called Andrew Yakubu as claimed and how much gift would have been to Thieves,Evil People and Demons in government over the last decades. Oh; Where is my gun, because I feel like shooting somebody, yet, common man go die by jungle justice.
My people I no dey fit sleep again o, I no fit comprehend how a human being go thief him generation money come go church go do thanksgiving. That Man of God who is his pastor is a bastard and that church is a Fraud; That God wey dem go pray to is a LIE. Nigerians must rise up and in unisim fight this corruption because if we fail today, hummmmm dis our suffering no go end o and many of us go die for nothing. Our Failure as a country is our fault as a people. Andrew Yakubu dey for every Family for Naija; You wan get money but you no wan work. Looking for Miracles in Churches/Mosques. If we fail to work, we can only steal to survive and that is where the Change must begin, with us all. A country where people spend more time on their knees than focusing on doing their job, will not stand. Nonesense. A country where getting rich from prayer and not work is a daily spiritual diet and men of God openly fraternise with certified and indicted thieves and droll over their loot. Is a country on its way to hell.
My people, Let us become a people who work so that we can collectively fight and fix dis country together. This madness of looters no go stop if our Miracle Corrupt Mindset no Change.
I Hear say, government dey give whistleblowers 5%. Good, and as The President of Frustrated Nigerians I go ginger anybody wey know any government worker or politician wey dey hide money for this our Jungle, No Fear, Stand up because me go fight your fight. I am willing to Provide further support for those who are afraid and I am willing to stand and fight to ensure that nobody go Intimidate you either from the looters or agencies of government wey wan dey funny. I cannot stand back and watch my country; My Naija; My Home get looted to the point of monumental destructiveness while those who are capable of helping the government recover Loots for the benefit of us all are intimidate by FEAR OF DEATH. All man go die and e fit be anytime sha.
I am prepared to lead a National Revolution Against Corruption and in support of President Muhammadu Buhari's anti corruption war. I will go to meet with the EFCC Boss; The ICPC Boss; The Police Boss and all those who are trying to give this country renewed hope. Very soon the voice of ordinary Nigerians will be so loud that the Interest of the frustrated Nigerians will be prority. For decades I have never heard thieves return so much money back into the system. For this I go clap small for President Muhammadu Buhari. As The President of fellow Frustrated Nigerias, I urge all of us to shine our eyes, so we no go take our hand spoil what's left of our future, because the stealing over too much. God punish bad people.
Article by Charly Boy