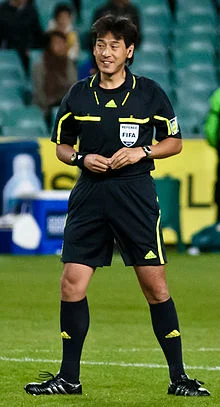 Croatian coach Niko Kovac believes that Japanese referee Yuichi Nishimura aided their 3-1 loss to the host country,Brazil in the opening game of the 2014 FIFA World Cup tournament.
Brazil had to come from behind to defeat Croatia with two goals from Neymar and one from Oscar cancelling out a Marcelo's own goal.
Croatia was in the game until a controversial call from the referee,pointing to the spot for a mild tackle on Fred by Dejan Lovren changed the complexion of the game.
"We better give it up now and go home. We talk about respect, Croatia didn't get any," an angry Kovac said after the game.
"If that's a penalty, we don't need to play football anymore. Let's play basketball instead, it's a shame,"he added.
Aside the penalty call that was given against them,Croatia had a goal cancelled when Ivica Olic looked to have genuinely won the ball without appearing to be in the keeper's way,but it was called back for a foul.
"This was ridiculous today and if we continue this way we will have a circus."
"I must say the referee was completely out of his depth."
Photo Credit: Wikipedia