The crisis rocking the Indigenous people of Biafra, IPOB, on Thursday, took a new twist with the emergence of a third faction claiming to be the authentic group representing the organization.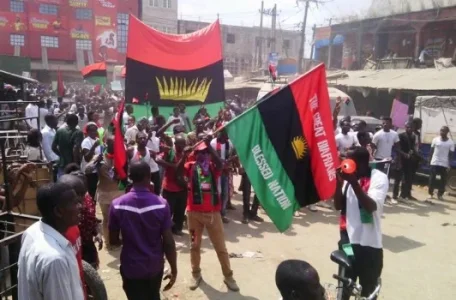 The new group, which parades itself as the Reformed Indigenous People of Biafra; RE-IPOB, disclosed that it has sacked the IPOB led by the detained Director of Radio Biafra, Nnamdi Kanu and the new faction; The Rebranded Indigenous People of Biafra, TRIPOB, which have Chima Philip Effiong Osuji, as its spokesman, stressing that both groups no longer have the right to speak for Biafra.
In a statement by its spokesman, Ikemba Biafra, the group who promised to disclose their leader on Monday 29th August, 2016, advised all pro-Biafran agitators to remain peaceful and warned security agents to stop molesting Biafran activists.
According to the statement, "Both IPOB and TRIPOB have been sacked; they should no longer speak for the Biafran people. They are the same outfit and have nothing to offer Biafra. We warn that if Nnamdi Kanu , IPOB and the so-called TRIPOB continue their antics , RE-IPOB will be forced to make public the sponsors of the two groups. RE-IPOB will not accede to the burning of the Biafran flag as the sacked TRIPOB planned. The Biafran flag is sacred to Biafrans."
The statement, however, added that RE-IPOB is open to dialogue if the Nigerian government is sincere in ending the protracted agitations for an independent state of Biafra, and warned that the group will not tolerate any insincerity from the government.