Nigeria's midfielder, John Mikel Obi today made the switch to Chinese club Tianjin Teda following the like of Oscar, Tevez.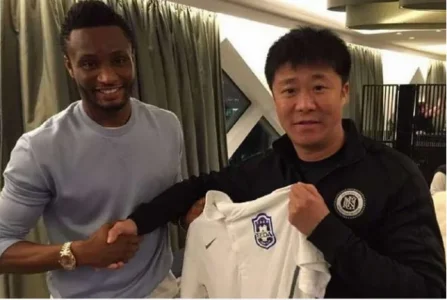 Below are 8 Things you should know about his new club:
1. Tianjin TEDA Football Club is a professional Chinese football club that currently participates in the Chinese Super League under licence from the Chinese Football Association (CFA).
2. The team is based in Tianjin and their home stadium is the Tianjin Olympic Center Stadium that has a seating capacity of 54,696.
3. Their owners are the TEDA Holding a state-owned conglomerate of the People's Republic of China.
4. According to Forbes, Tianjin are the 8th most valuable football team in China, with a team value of $84 million, and an estimated revenue of $15 million in 2015.
5. The club has changed its name 5 times from Tianjin City FC to Tianjin FC, Tianjin Samsung, Tianjin Lifei and to Tianjin Teda in 1998.
6. The club retired its number 12 jersey in January 2012. The number is regarded as that of the club Supporters (the 12th Man).
7. In January 2016, the club secured the services of first ever Nigerian, Mikel Obi from Chelsea FC.
8. The club has won the Chinese Jia-A League three times; 1960, 1980 and 1983.