A former Governor of Lagos State and National Leader of the All Progressives Congress (APC), Bola Tinubu has advocated the removal of petrol subsidy as a way to address the perennial fuel scarcity in the country, ChannelsTv reports.
Mr Tinubu made the pronouncement in Kaduna State as a Guest Speaker at the 10th year memorial anniversary seminar for late Dr Bala Usman on Friday.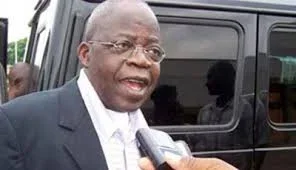 He argued that the sustenance subsidy on petroleum products had favoured only the privileged few while the majority of other Nigerians wallow in hunger and poverty, hence the time has come for its removal.
The National Leader of the APC explained that monies saved from subsidy removal could be used to revive the nation's refineries, reactivate the rail transport system and provide other basic infrastructure for the citizens.
Meanwhile, The Nigerian government had said that contrary to speculations, it isnot interested in the removal of subsidy on petroleum products, but rather a price modulation that will reduce its involvement in pricing starting 2016.
-
ChannesTV