Former Lagos State Governor, Bola Tinubu has won the 2015 Silverbird Man of the Year. He was nominated alongside the first chartered accountant in Nigeria, Chief Akintola Williams as extraordinary men of the year.
He eventually emerged as the star winner on Sunday at the Convention Centre of the Eko Hotel Lagos. Earlier before he was awarded, the President of Silverbird Group Senator Ben Murray Bruce spoke about the need for Nigeria to have sense of history.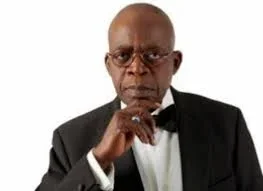 He said, "Iam humble for many reasons. We are in a nation that does not teach history. We cannot develop and grow if we do not have concept for history. I deal with today's problem with the history of the past. Nobody pays attention to statistics. Do we lead the government or government lead people? How many people have light? How many people can survive on their own? I urge you as Nigerians to be proud of our culture and history. How much budget do we have for National Theatre? You are nothing without history. How many people care about history? We have a cultural problem because we don't preserve our history.
Related: Silverbird Awards: Tinubu Gives Ben Bruce Common Sense Advice
In his response, Tinubu urged Bruce to sponsor a bill to bring back the teaching of history into Nigeria schools.